Switch Kit/Direct Deposit
Join West Virginia Federal Credit Union
Switching your account(s) to West Virginia Federal Credit Union is as EASY as 1 -2 -3! Our Credit Union Membership will provide easy access to Checking, e-Statements, Online Banking, Bill Pay as well as many other services. As a member you will experience personalized service and competitive rates. We have designed a kit to make your switch easy with step by step instructions. These forms will be used to notify companies that you've switched your account to West Virginia Federal Credit Union. Simply fill out the information requested below and then print, sign and mail the letters that will be generated to your other financial institutions to complete the process. Need help? Call us at 304-744-MYCU (6928) for assistance. Remember, prior to closing out your old account, make sure to leave enough money to cover any outstanding checks and automatic withdrawals. Once all charges have cleared your account, you can request the balance. It is important to destroy all old checks, debit cards and deposit slips.
West Virginia Federal Credit Union Routing Number 251584197
To locate the account numbers for your old account, look at the bottom of your check for a series of numbers. The bank routing number is the first set of 9 numbers, then it is preceded by your account number and lastly the check number.
Once you have followed all these steps, your switch will be complete. You are now a member of West Virginia Federal Credit Union. Welcome, we look forward to providing you the best service to fit your financial needs.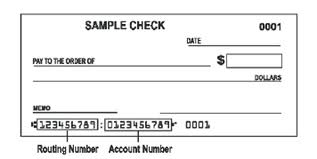 Go to main navigation