Home Equity Loan
Flexible Financial Options
In today's financial environment it is nice to know you have a powerful tool on your side. Take advantage of the built in equity in your home to help prepare for life's unexpected expenses and opportunities.
Home Equity Loan
A home equity loan is a great choice if you have a specific need. It is secured by your home and enables you to access a portion of your available equity in the form of a single payout. Both the interest rate and payment will remain the same for the entire loan term. The difference between a home equity line of credit (HELOC) and a home equity loan is that the loan proceeds are dispersed as a one-time lump sum, and you can't borrow funds on the loan again for the entire term or with no future availability to borrow funds on the loan again for the remaining term.
Getting to know the basics
The rate: Home equity loan offers a fixed interest rate, and the payments are a fixed amount.
Budgeting is made easier knowing there is a specific payment amount each month. The interest paid is a potential tax deduction, so the benefit is that you are saving on the interest paid. (It is recommended that you seek a tax consultant because every personal situation is different.)

How do you qualify: To qualify you must have available equity in your home. You must owe less than the value of your home. Currently we will lend a maximum of 89% of the appraised value minus your mortgage loan balance; however this is shown as an example and may be subject to change. Your lender also reviews other factors such as monthly income, credit score, employment history and monthly debts, all of which enter into the credit approval decision.

Potential Loan Amount: For example purposes let's assume the lender allows a maximum loan amount of 89% of your home's appraisal value and your home appraises at $250,000, if you owe $150,000 on your current mortgage balance you would qualify for up to $72,500 for a loan amount. (250,000 X 89%=222,500-$150,000=$72,500)
Which Option is Right for You?
The chart below helps you compare the benefits of both the Home Equity Loan and the Home Equity Line of Credit. Need further assistance call your local West Virginia Federal Credit Union at 304-744-MYCU (6928) and ask to speak to a Mortgage Loan Specialist; they can help you to determine the best option for your financial situation. We will be glad to take an application when you are ready.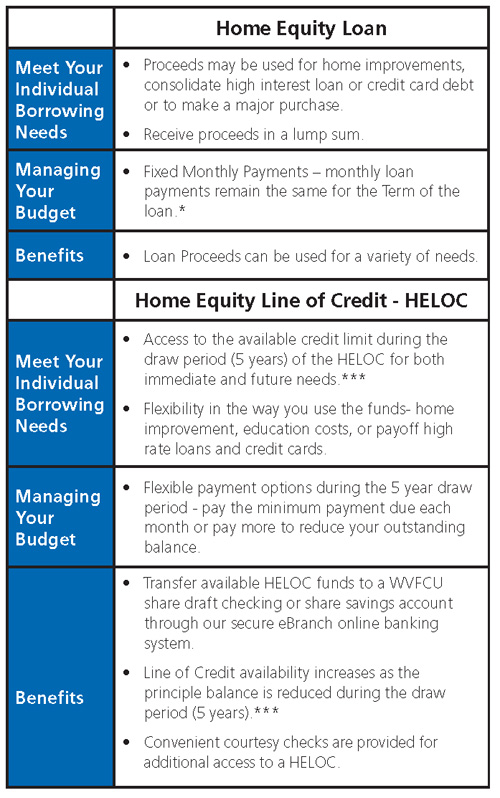 *1st Lien Home Equity Loans are required to escrow taxes and insurance which will increase the monthly payment.
**Consult a Tax Professional about the tax deductability of interest.
***Home Equity Lines of Credit have a 5 year available draw period with an option to extend the draw period for an additional 5 years. There is a 10 year amortization for repayment after the draw period expires. Minimum monthly payment during the draw period is $150,000. Maximum term including 5 year draw period extension is 240 months. The index: The Wall Street Journal Prime Rate. The margin: The margin is the amount added or subtracted from the index (Wall Street Journal Prime Rate) which determines your rate for the home equity line of credit.
(Your actual rate, payment, and costs could be higher. Get an official Loan Estimate before choosing a loan).
Go to main navigation